For Whom The Bell Tolls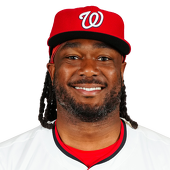 After a miserable 2016 season, the rebuild continues in the Steel City. All eyes are currently on one man: outfielder Josh Bell.
Bell, considered one of the league's hotter prospects, is coming off a starring role as a rare bright spot on Pittsburgh's season in an outfield many have high hopes for going forward. However, with many, many holes in the ship that need plugging, Bell is a potential trade chip. With Tink Jones in right field, Andre Ethier in left and Oscar Taveras and Tim Hampton also competing for places, maybe moving Bell – for the right price – isn't so crazy.
If the unfortunate does happen and one of them goes down for an extended period, there's always Michael Conforto, right?
Sorry, too soon?
In all seriousness though, if Bell stays one of the others misses out – likely fellow hot prospect Tim Hampton for the second season in a row. If Bell goes, the Pirates faithful will demand the universe in return, and would probably still be unsatisfied.
Team Needs
Catcher – With Josh Thole headed to free agency, and on the assumption that he doesn't return, the Pirates are left with Neftali Rosario behind the plate. While he had a good season in very limited innings and is solid defensively, nobody expects Rosario to keep his numbers up anywhere near their current level over an entire season. He's well liked however, both in the clubhouse and the front office, and should serve as a solid backup. Should the need arise, Carlos Romero also has experience behind the dish, but figures to continue to feature at first base next season. General Manager Jason Toms is believed to be looking for a veteran who follows the Rosario mould for his catchers – good defender and clubhouse leader first and foremost, with offensive production a nice bonus. The clubhouse was a major concern last season, perhaps even moreso than on-field performance. While the major troublemakers have been dumped in one of the three rivers (with Velasquez climbing out somewhere near Cleveland and being thrown back in a short while later*), Toms is eager to establish some veteran leadership for this young, growing team.
[*We're aware Cleveland is much too far north for this joke to work, but bear with us. The GM's a Brit, he'll never notice – Ed.]
Middle Infield – While Dee Gordon is a great player to have around, there are many questions around whether or not he's an every day player, and more questions around whether he's better at second or short. His exceptional speed and baserunning are obvious pluses, and he did win his first gold glove this season for his field work, but his offensive numbers don't scream 'solid starter'. An OPS+ of 68 is not going to win him over to many. At shortstop, Yunel Escobar's dire performance gave CJ Hinojosa the perfect opportunity to sell himself as the every day starter. He didn't take it. Regardless, frankly a complete lack of alternatives looks set to see Hinojosa get another opportunity next year. Despite this, either a shortstop or a second baseman is likely to be near the top of the Pirate's Christmas list.
Pitching – The bullpen looks set, or at least not a priority, with Carlos Meza setting up Dan Runzler. Christopher Hanna, Franklin Morales and new acquisition Julio Ledesma are expected to feature heavily, with Rich Hill taking on lefties again, though there are several September call-ups who may get a longer look in Spring Training this year.
Starting pitching, however, is a big league-wide need this offseason, which is likely to see the Pirates immediately priced out of anyone conventionally useful. This may cause Pittsburgh to think further outside the box, with the experiment putting Gerrit Cole back in the starting rotation last season being described as "a moderate success", perhaps optimistically. If they can find enough arms, there's talk of a return to the bullpen for Cole which would strengthen it immensely. As things stand, the Pirates are looking at a rotation featuring Jarrod Parker, Parker Markel and the aforementioned Cole. They'll be joined by under-the-radar acquisition Drew Carpenter if he impresses in Spring Training, and potentially 24 year-old rookie Paul Kline if he can fix his control issues. You'd think Joe Blanton would get a look too, Blanton was one of their most consistent performers last term.
You'd have to think though that two solid mid-rotation starters are a need for the Bucs, as this is a rather motley crew. Whether they'll find them this year is another matter. Chris Scalise and Shawn Stephens seem so far away…